A few weeks ago, I received the latest and greatest catalog from
Keepsake Quilting
. It has a beautiful Block of the Month (BOM) program for a quilt pattern called "Taos". I loved the quilt! However, I didn't love the ideal of spending close to $300 on a BOM program. While the colors are fabulous, I just didn't want to spend that much on fabric when I know I could get the fabric cheaper at other locations. The problem was...the catalog only sold the BOM with the fabric. No pattern only option! :-(
So what's a girl to do?
Yay for the internet! I was able to find the designer for the pattern (Chris Hoover) and was able to contact her directly. She works with a quilt shop local to her and they were going to be selling her pattern by itself (no fabric with it). Yay! It took a few hours for them to update their online store, but update it they did and I know have my very own copy of the pattern.
Here's the pattern called "Taos" and if you're interested, please go to
Gruber's Quilt Shop
and you can purchase it there.
Of course, while I was on the site I couldn't help but notice a few other patterns. ;-) Since I was purchasing patterns anyway, I might as well get an extra or two since I was paying for shipping anyway. So the others I picked out are....
Blueberry Hill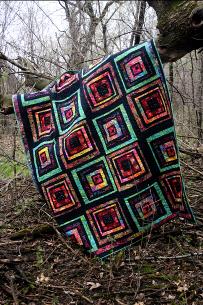 Stacks3

Walden Woods
I'm thinking I should have also done this one...Texas Star, but I guess that will wait until next time.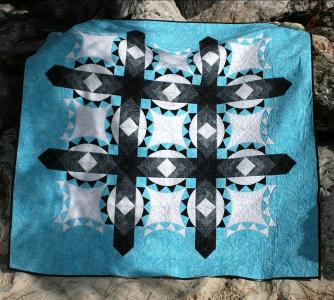 So I have lots of quilt patterns to make (somehow that's never a problem), and not enough time to make the quilts...nor places to put them.
I won't be doing a ton of sewing over the next few weeks as its 3 weeks and 3 days to closing on the new house. I'm hoping to get a few projects semi-wrapped up in the next two weeks (finishing the flimsy for Labyrinth and pin basting the beginner sampler quilt I made earlier this year). After November 11th, I think the sewing is going to be on hiatus until we move, which is November 21st.
I'll still be doing some needlepoint, but it will take a little while to get the sewing room packed up and then unpacked once we get to the new house. Plus, there will be all the other unpacking to do, so it may be a while before I can get back to sewing. Hopefully I'll be able to get some done during December as it tends to help relieve stress for me.